About Us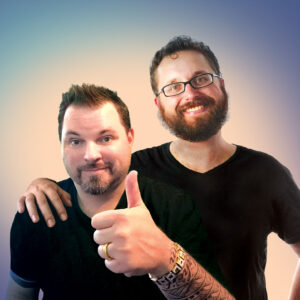 Hello, we're Sebastian and Max Sindermann from Sebastian Branding & Marketing Solutions. We are very proud to be part of the Pet Tech family and have worked with Pet Tech corporate for many, many years. As fellow business owners, we know how much of a struggle it can be to brand and market your business. It's our mission to help you as a Pet Tech Instructor and pet professional grow your business through successful branding and marketing.
Here's a little about our history…
It all started with our founder and creative director, Sebastian. At the age of 3, he picked up a pencil and never put it back down. For over 25 years, he used his talents to help businesses thrive with professional designs and creative marketing. During this time, he saw how much businesses struggled to reach their audiences. Through his years of experience, he came up with his 3 Keys to Success: Branding, Marketing, and Web Development.
Branding defines who you are.  Marketing connects you with your clients. Web Development is your online presence.
Sebastian used his 3 Keys to help a wide range of clients including Pet Tech, Paramount Studios, Warner Bros., MLB, NFL, NBA, Nascar, Kentucky Derby, Edelbrock, Disneyland, PGA, ESPN, Del Mar Fair and Race Track, San Diego Food Bank, American Diabetes Association, American Heart Association, San Diego Zoo, Marriott Hotels, YMCA, and many, many more.
But it didn't end there, he partnered up with his brother, Max Sindermann, and the two got to work. Max is a fellow artist, writer, and accomplished musician. Together, they built Sebastian Branding & Marketing Solutions to be a one-stop-shop for all your branding and marketing needs!
Sebastian Sindermann
Creative Director, Founder
Max Sindermann
VP of Marketing

Call/Text 858-500-5008
service@sebastian.solutions