About Us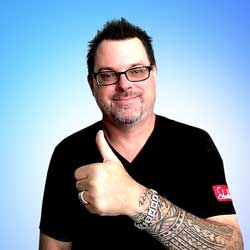 Hello! I'm Sebastian Sindermann, the founder and the driving force behind Sebastian Solutions.
We are very proud to be part of the Pet Tech family and have worked with Pet Tech corporate for many, many years. As fellow business owners, we know how much of a struggle it can be to brand and market your business. It's our mission to help you as a Pet Tech Instructor and pet business owner, grow your business through successful branding and marketing.
There's no shortage of great creative agencies out there, but what sets us apart is professionalism. Sure, we love being creative, but business comes first. 
I personally bring 30+ years industry experience and my team of creative professionals adds countless more.
Furthermore, I personally oversee each and every project to make sure things are done right, on time, and on budget. By having a hands on approach, you can always be sure that I personally have a stake in your success and so does my team. In short, your success is our success.
We also know that communication is key. You'll get an estimate right from the start with no hidden surprises. By setting a detailed timeline and keeping in touch with you every step of the way, we ensure things are done right. 
Most of all, we work hard to make you happy and satisfied with the results. Not only is it the right thing to do, but just good business. When you're happy, you'll come back to us for future projects and also refer us to your colleagues, friends, and family.
My team and I can't wait to work with you to make your business a success!
Sebastian Sindermann
Creative Director, Founder
Call/Text 858-500-5008
service@sebastian.solutions